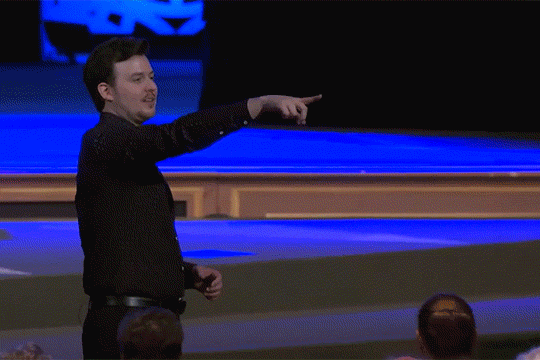 The Bible, alive in front of you
Living Letters enables people
to experience scripture
as it was Originally intended.
What do we lose when we read Scripture through 21st-century eyes?
What do we miss?
What do we fail to understand?
Nearly two thousand years separate us from the cultural and historical contexts of the biblical text. What we've lost is the ability to experience Scripture in the powerful way its first readers and hearers experienced it—as a living word spoken directly to particular communities with particular struggles, questions, fears, and hopes.
With Living Letters, Broadway actors Juliette and Stephen Trafton present dynamic, interactive performances that enable churches to enter imaginatively into the drama of Scripture, providing a powerful new way to understand, experience, and live out the Word of God.
Imagine taking your congregation back to Philippi in the first century to relive the power of God's Word through Paul.
Confusion about the gospel plagues our culture today just like it was plaguing the churches of Colossae, Laodicea, and Hieropolis in the first century.
Stephen trafton
Stephen Trafton's Broadway credits include Les Misérables (Original Revival Cast) and the National Tour of The Phantom of the Opera. He has performed at many regional theatres across the country playing leading roles in shows such as Oklahoma!, Joseph and the Amazing Technicolor Dreamcoat, Bye Bye Birdie, Love's Labour's Lost, Romeo & Juliet, Beauty and the Beast, and many others. He received his training at Baldwin-Wallace College in Berea, OH. He is the West Side Youth Director at Redeemer Presbyterian Church in NYC, where he served under the leadership of Dr. Tim Keller. Previously, he worked with Max McLean at Fellowship for the Performing Arts. He performs Living Letters (Philippians, Ephesians, Colossians, Jonah, and Acts 13) at venues across the country. Currently, he lives in Astoria, NY, with his wife, Juliette, and their two children.
Juliette Trafton
JULIETTE TRAFTON starred as Luisa in the longest running musical in the world, The Fantasticks, directed by Tom Jones in New York City. Before that, she performed the role of Christine Daae in the National Tour of The Phantom of the Opera, and, regionally, in leading and featured roles in Guys and Dolls, Into the Woods, Jane Eyre, Peter Pan, and Kiss Me, Kate. As a commercial artist you can follow her work on national television. A lover of improv, Juliette recently completed her studies at the Upright Citizens Brigade in NYC. She loves nothing more than performing with her husband, Stephen, and the two recently performed in concert with the Hartford Symphony Orchestra. Their finest productions yet are their two little ones, Tadd and Audra.